Below is a screen shot that shows some very basic information on the heavyweight divisions at the 2012 European Junior (under 20 years) Championships, held recently in Porec, Croatia.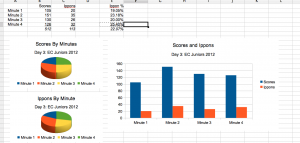 As you can see, the under 20 championships duration is 4 minutes. The least amount of scoring happens in the first minute, the most in the second minute of the match.
The number of Ippon throws varies minute by minute also. With the last minute of the match being an area of interest. There is proportionately more Ippon scores during the final minute than any other period in the match. The reasons for this we do not know. And this is from a single event.
We can also see that there were 512 scores made in this incomplete dataset, of which Ippon made up approximately 22% of the scores.
As with all statistics, the size of the sample set is important. In this case it is extremely small. This is a dataset collected with a new experimental solution and was only used on one day of the event. We need to consider a much larger sample before putting much weight in these figures; I put them here purely to invite discussion.